Our Location
The UF/IFAS Department of Agricultural Education and Communication (AEC) is housed in two buildings on campus: Rolfs Hall and Bryant Space Science Center. The addresses for both buildings are as follows:
Rolfs Hall
341 Buckman Drive
Gainesville, FL 32611
Bryant Space Science Center
1772 Stadium Road
Gainesville, FL 32611
Parking Directions
To access either building, we recommend that visitors park in the Visitor Welcome Center garage on Museum Road, underneath the Reitz Student Union, and walk from there. Parking fees vary. For more information about parking, visit the UF visitor parking website.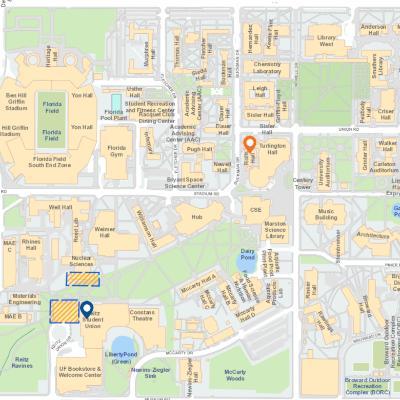 The main office for the department is located in Rolfs Hall (orange marker), although parking can be best found at the Reitz Student Union (blue marker).